Professional Artists
---
Mike Billy Sr.
---
Mike Billy Is a 7th generation skwxwu7mesh canoe carver who is creating a significant fleet of new dugout and cedar strips for local First Nations, including the North Shore Canoe Club on skwxwu7mesh Nation, while teaching apprentices, guests and visitors about the traditions, tools and techniques used. The projects serve as a multi-generational and multicultural opportunity for learning about traditional skwxwu7mesh ways regarding the canoe and its significance to the Squamish way of life. It forms the basis for reconciliation activities in that it allows non-First Nations people an opportunity to understand aspects of Indigenous traditions (a key to creating mutual understanding) while concurrently helping to pass on traditional skills to other skwxwu7mesh members who have yet to be exposed to canoe carving.
Mike is the Lead on the project and makes all major decisions regarding the canoe design, the schedule, who the apprentices are and how to interact and work with the Elders. Mike also ensures that activities are done in a culturally significant and respectful manner.
Cease Wyss
---
T'uy't'tanat-Cease Wyss
Skwxwu7mesh/Sto:xaLo/Hawaiian/Swiss
T'uy't'tanat- Cease Wyss is an interdisciplinary artist who works with digital media, writing, performance as her multi-disciplinary arts practice. She is a community engaged and public artist and ethnobotanist.
Her works range over 30 years and have always focussed on sustainability, permaculture techniques, Coast Salish Cultural elements and have included themes of ethnobotany, indigenous language revival, Salish weaving and digital media technology.
Cease has focussed on connecting her Polynesian roots to her Salish roots through weaving and digital media projects and on raising visibility towards land based works.
Her collaboration with Anne Riley with "A Constellation of Remediation" and "For the Radical Love of Butterflies" have been tremendous examples of how indigenous communities need to unite through a cultural lens in order to raise awareness about sustainability and protecting species at risk, as well as recognition of our part in the colonial destruction and yet the potential remediation and restoration of ecosystems.
Through recent residences that Cease has been involved in through Frames Sovereignty Collective and the IM4 Lab at ECUAD, she has been expanding her practice through accessing laser cutters, 3D Printers and large scale felting machines which have inspired her to work more with textiles and other tactile materials.
Gerry Sheena
---
I am a West Coast Indigenous Carver living in Vancouver, BC. For three decades, I have been producing a variety of large and small scale wood carvings; exhibiting and selling my work in galleries across Canada and the US. I am passionate about community-engaged art projects, where I mentor youth in the art of carving, following cultural practices and sharing knowledge. Carving was almost a lost art because of historical events. I struggled to find teachers to help me build my skills, leaving me to study and teach myself. This has given me a great appreciation of the art and a strong desire to pass on my knowledge and skills to others. My passion is working in a community setting and mentoring youth. I feel it is important to teach so that we can preserve the cultural art for many generations to come. I am deeply influenced by the struggles and success of our indigenous animals. I like to incorporate salmon into my work because man, animals and plants rely on them for sustenance. The pollution in our waters along with overfishing leaves me thinking and worrying about the future of the salmon. I honour the salmon by depicting them with west coast animals that is vital to our survival. Growing up on the West Coast, my arts practice has been influenced by artists such as Susan Point, Robert Davidson, Beau Dick and Bill Reid. What makes my work unique is that I mix traditional form with contemporary Coast Salish design. Many people have commented that my work has a gentle spirit and positive energy flowing out of it. My work is well received by collectors and art enthusiasts throughout North America. I work full-time at my art practice.
Caroline Phelps
---
Caroline Phelps is from both Nuu Chah Nulth; Sto:Lo Territories and of Hawaiian descendent. Ancestral Name is QwAACWA which comes from Ahousaht BC. Caroline promotes and will always love the summer traditional Tribal Canoe Journeys, where we support our youth in guiding them in a good way using our culture protocol, also welcoming every culture to this wonderful celebration and keeping our traditions alive. Caroline has been working with textiles for over 24+ years now, weather it's a star-blanket or a block quilt or working with cedar bark. The blankets that are custom made are for many different reasons such as new born baby: life's achievements and or in time of memorial to honor peoples loved ones.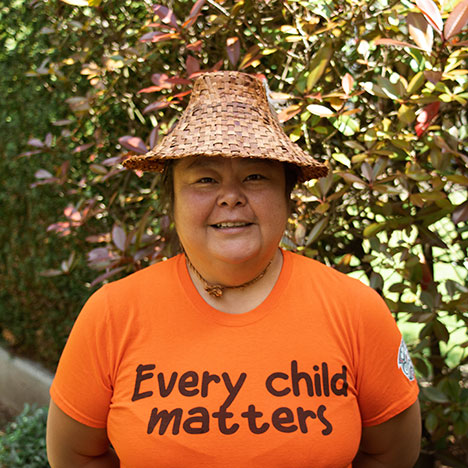 Paul Windsor
---
Paul Windsor was born and raised in Kitimat, British Columbia, and currently resides in Vancouver. He began drawing as a young child, and is an ancestral designer who comes from a family of artists. Paul also has a large interest in music and a love for the planet. His paintings, typically on the mediums of paper and wood, frequently feature positive imagery depicting the natural world. Paul's artistic motivation stems from a drive to bring people together from different generations from his culture.
Will George
---
Will George hails from both Squamish and tsleil-waututh nation with grandparents on both sides. For many years will was a commercial fisherman catching all the food allocation for his people also for 21 years he has clean windows on high-rise buildings in Vancouver The last four years he has dedicated his life to standing up for first Nations issues Landon rights and protecting his lands and waterways . Such acts as hanging off the second Narrows Bridge for two days stop in the oil tanker from leaving his body of water also standing up and challenging the prime Minister of Canada many times which he states is his favourite part. Will George says he is honoured to be chosen to stand up for his people. We admire him for us outstanding strong leader ship And his commitment love care and compassion for doing not only this for his family but also for your family as well.
Jordan Gallie
---
Jordan Gallie is a proud member of the Tsleil-Waututh Nation, North Vancouver, B.C.
He has been inspired of the arts at a young age. At the age of nine he had his first visit of the Museum of Anthropology, the inspiration of the arts since that day is what he knew exactly what he has strong passion for and has been producing art since.
Jordan went to Capilano University for Graphics Design in 2006, Northwest Coast Jewellery and Fine Arts program in 2012. He works in multimedium producing many logos, jewellery, murals, and glass work.
His true passion is to bring the arts and teachings back to all youth, keeping minds open and to inspire those just as the day he was. Jordan knows the path he will proudly walk on.
Apprentices
---
Mike Billy Jr.
---
My name is Michael Billy and my Indigenous name is Stolta.ken, I am from the Squamish, Nuxlak and Yale nations. I come from a hereditary chieftainship that keeps the sport of war canoeing alive. I believe as a hereditary chief my job during my lifetime is to learn all I can about canoe building and racing as I can and pass it on to the next generation so the sport continues to thrive. I aspire to get my Bachelors from UBC in First Nations and Indigenous Studies and continue to get my teachers degree so I can teach and inform the next generation about our culture and rejoice with the ones who have found their connection to our culture.
Alvin Martin
---
My name is Alvin Martin Jr. and I come from Nisga'a, Nuxalk and Squamish Nations. My ancestral name is Xachá7lh and I was raised in the village of Xwemulchst'n. I currently reside in Eslha7an AKA Mission Indian Reserve No. 1. For as long as I can remember I loved working with wood. In high school my woodwork teacher was continuously amazed with my ability to whip out extraordinary items in the span of one class, Canuck, batman logos, bridges etc. My mind just works that way, if I see something or something comes to mind I'd wonder if I could make it? So I did. My background is in carpentry but when the opportunity came up to work with Canoe Cultures I was happy to be included. I immediately applied and loved every moment since I started. My biggest inspiration is my Papa Cedric Billy – Sxayílkin Siyam it brings me great joy to see his pride in my work and achievements.
Barrett Martin
---
Greetings, my name is Barrett Martin, and my ancestral name is Wátiya. I come from Squamish, Nuxalk, and Nisga'a nations and reside on Squamish land in the village of X̱wemelch'stn or Capilano Reserve. My reason for carving is a recent awakening in my cultural spirit. In January 2020 i joined a cultural program based in Whistler's Squamish Lil'wat Cultural Centre. This program opened up a whole new opportunity for me to learn about and appreciate my culture. My goal in this program is to learn more about canoe carving from my uncle and cousin in program. I see myself pursuing more and more opportunities to learn not only in canoe carving but in cultural prowess altogether.
Lydia Brown
---
I had been looking to develop my skills in woodworking and am still working as an artist – primarily as a painter. In the past few years I have been fortunate to have experienced a few years on tribal journeys supervising youth from my home community, Snuneymuxw First Nation, and have always been interested in the canoe building experience, which generally is done by men. I also helped organize paddle practices for youth.
Emerging Artists
---
Rayne Burning
---
Rayne Burning is a Kanien:keha:ka (Mohawk) artist whose birthplace is in Brantford, Ontario and has lived in Vancouver for all her conscious years.
Her practice consists of paintings, and digital drawings of alternate landscapes as well as cartooning. She is currently enrolled at ECUAD Majoring in 2D experimental animation and hopes to be a part of the media industry while maintaining artistic freedom in the near future.
Jessey Tustin
---
Jessey is an eighteen year old Canadian-Indigenous artist who's life has been consumed by the arts since she was a small child. She began by scribbling on the walls and is now studying at Emily Carr University currently enrolled in the foundation year and exploring new mediums. Jessey enjoys painting, photography and digital art but she would like to explore ceramics, costume design and mural art. Jessey looks forward to new experiences and opportunities life throws towards her.
Ocean Hyland
---
shḵwen̓ kwi en sna, chen íp'is kwi kwshámin ts;simtelot. chen tína7 tl'a átsnach úxwumixw.*
As an indigenous artist, I continuously strive to deepen my understanding of my art practices and what that means to my culture and community. I paint, draw, carve/ engrave, and weave. I also study the Squamish language and ethnobotany.
I love working for my community and I enjoy collaborating with artists who are committed to enriching the communities they live in. I love creating art that feeds off of reciprocal relationships. I am constantly learning how to navigate what it means to be an indigenous artist upholding the values of my community as well as the values held in creating art in the contemporary world. I will continue to strive to carry these tools and knowledge the best I can to share as those before me always have.
Caleb Ellison-Dysart
---
Caleb Ellison-Dysart is a Nîhithaw (Woods/Woodland Cree) multidisciplinary artist specializing in 3D Animation & Modelling. His family comes from O-Pipon-Na-Piwin Cree Nation & Nisichawayasihk Cree Nation in Treaty 5 territory. With an intriguing storytelling style, he creates an aesthetic that is raw and authentic. His process-driven work is finely crafted, celebrating his Nîhithaw culture and an innate, ancestral connection to the land.
Chris Tait
---
Chris Tait is an indigenous man originally from Witset on Wet'suwet'en territory. He was a former youth in foster care that grew up on the Sunshine Coast and now resides in Vancouver on Coast Salish territory. Chris an emerging photographer and Emcee looking to advance his skills as multidisciplinary artist and writer
Caitlin Aleck
---
Caitlin Aleck carries the ancestral name, Te-Awk-Tenaw, passed down from her late grandmother Irene Aleck she shares this name with her cousin Hillary Hyland. Originally from Cheam First Nation, Caitlin now lives and works in Tsleil-Waututh Nation in North Vancouver, BC. She started her weaving journey in late 2018 with mentor Angela George and has been apprenticing ever since. Now that 3 years have come and gone, Caitlin has had the honour of working closely with Angela to complete a 10' Weaving Governance panel, 2 school panels, a robe, and this panel to be showcased in the Canoe Cultures :: Ho'-ku-melh Exhibition as a tribute to the Residential School remains that are being found all across Turtle Island.
With much gratitude and humbleness and direction from Angela, Caitlin is teaching students of Tsleil-Waututh Nation School- "siʔám̓θət" to weave; from kindergarten to grade 12.
This mom-to-be is proud to be weaving with her daughter before she becomes earth side and will continue to weave and teach for years to come.
Guest Curator
---
Roxanne Charles
---
Roxanne Charles of Semiahmoo First Nation is a cultural historian implying means of visual representation, oral history, and ceremony. Methods which have been utilized by Semiahma People for thousands of years. Roxanne holds two undergraduate degrees from Kwantlen Polytechnic University and is currently completing her Master of Fine Arts at Simon Fraser University, Vancouver. Roxanne's work directly responds to a troubling colonial present and documents a variety of issues that reflect her life experiences such as spirituality, identity, urbanization, food security, resource extraction, trauma, and various forms of systemic violence.